DOMINI PÚBLIC (DIWO: Do It With Others)
A Domaine Public les spectateurs font partie d'une fiction. C'est (comme) un jeu de société grandeur nature où le spectateur est plus qu'un simple pion. Domaine Public réunit un groupe de personnes (le public) sur une place ou dans la cour d'une école. Qui sont-elles, ces personnes ? D'où viennent-elles ? Quelles sont les relations qui les unissent ? Elles marchent pendant qu'elles écoutent dans leur casque audio une série de questions et d'instructions, certaines plus innocentes que d'autres. À partir de mouvements simples des participants, des petits groupes se forment peu à peu, des micro-communautés qui reflètent des patrons sociaux sous-jacents.
Domaine Public, au premier abord, a l'air d'un sondage 3D qui prend vie et finit par devenir une fiction. Dans sa version DIWO (Do It With Others –« Faites-le Avec Les Autres »-) Roger Bernat, le collectif d'artistes  Les Salonnières et es étudiants de lycées des villes de Terrassa et Barcelona, ont élaboré un nouveau scenario, inaugurant ainsi une série de versions au contenu collaboratif.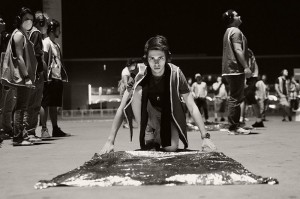 EQUIPE
Mise en scène : Roger Bernat/FFF. Étudiants qui ont collaboré à la création : Lycée IES  Torre del Palau et IES Viladecavalls de Terrassa, et le lycée 4 Cantons de Poblenou-Barcelona  Médiatrices : Les Salonnières. Musique : W. A. Mozart, A. P. Borodin, G. Mahler, A. Dvorak, B. Smetana, J. Sibelius, J. Williams et E. Grieg. Sélection musicale, édition et versions : Juan Cristóbal Saavedra Vial. Photographie : Txalo Toloza et Cristina Fontsaré. Direction technique : Noe Laviana. Design Graphique : Marie-Klara González. Coordination : Helena Febrés Fraylich.
Production de la version DIWO : Elèctrica produccions.
Co-production : Centre d'arts escèniques de Terrassa/Festival TNT (Terrassa), Opéra Théâtre de Saint-Étienne (Lyon). Avec l'aide de: Mostra d'Igualada, Festival Escena Poblenou
.
PREMIÈRE: 05/10/13, TNT, Terrassa. TOURNNÉE: Barcelona> Saint Étienne>